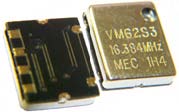 Features
A low-profile, Industry-standard package. 10MHz to 27MHz. Stability from ±1.0ppm.
Industry-standard SMD package 11.4 x 9.6 x 2.5mm
Close tolerance stabilities from ±0.5ppm over 0° to +50°C
Low power consumption
RoHS compliant
Typical Applications
An ideal TCXO when tight tolerance and and low power consumption is required.
Specifications
Product Series Code TCXO: EM62GS VCTCXO: VEM62GS
Frequency Range: 10.0MHz to 27.0MHz
Initial Calibration Tolerance**: <±1ppm at 25°C
Standard Frequencies: 10.0, 12.80, 13.0, 14.40, 15.36, 16.384, 19.2, 19.440, and 19.68MHz (Partial list)
Frequency Stability vs. Ageing: ±1.0 ppm max. first year vs. Voltage Change: ±0.3 ppm max. ±5% change vs. Load Change: ±0.3 ppm max. ±10% change vs. Reflow: ±1ppm max. for one reflow (Measured after 24 hours)
Supply Voltage: +2.5, +3.0 or +3.3Volts
Output Voltage Level: 0.8V p-p minimum
Start-up Time: 2ms typical, 5ms max.
Output Load: 10kOhm//10pF ±10%
Harmonic Distortion: -10dB typical, -7dB max
Output Format: DC block, AC coupled
Storage Temperature: -50° to +100°C