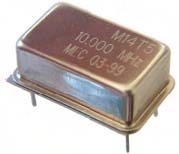 Features
A clipped sinewave output TCXO packed in 14 pin DIL.
Frequency range: 9.6MHz to 27.0MHz
Supply voltage 2.5, 3.0, to 3.3 Volts
Customized specifications available
RoHS compliant
Typical Applications
A low cost TCXO for a broad spectrum of applications.
Specifications
Product Series Code TCXO: EMG14S VCTCXO: VEMG14S
Frequency Range: 9.6MHz to 27.0MHz
Output Waveform: Clipped Sinewave
Initial Calibration Tolerance**: <±1ppm at 25°C
Standard Frequencies: 10.0, 12.80, 13.0, 14.40, 15.36, 16.384, 19.2, 19.440, and 19.68MHz (Partial list)
Frequency Stability vs. Ageing: ±1.0 ppm max. first year vs. Voltage Change: ±0.3 ppm max. ±5% change vs. Load Change: ±0.3 ppm max. ±10% change vs. Reflow: ±1ppm max. for one reflow (Measured after 24 hours)
Supply Voltage: +2.5, +3.0 or +3.5Volts (Specify when ordering)
Output Voltage Level: 0.8V p-p minimum
Start-up Time: 2ms typical, 5ms max
Output Load: 10kOhm//10pF ±10%
Harmonic Distortion: -10dB typical, -7dB max.
Storage Temperature: -50° to +100°C